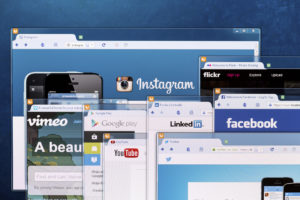 Today's social media outlets allow business owners to reach potential customers nationally and globally. In fact, according to a study by the Pew Center for Research, 65 percent of American adults reported they used social networking sites in 2015. But maintaining a social media presence among the various outlets available can be overwhelming and time-consuming. So which social media outlets are the most effective?
Know Your Focus
Not all social media outlets are created equal, so start by analyzing your business focus. For example, my business is focused on sharing information, which lends itself to fostering a community of like-minded individuals who are interested in educational products and services. Therefore, I have found that Facebook and Twitter are the best social media outlets to promote my work. But if you are in a business that is very visual, you may want to explore social media outlets that allow you to post photos or videos of your products and services.
Also, it is a good idea to review your target audience. A Pew Research Center study found that 90 percent of young adults between the ages of 18 and 29 use social media, compared to only 35 percent of adults who are 65 and older. Based on this data, you may want to tailor your social media and advertising strategies depending on who you want to successfully reach.
The Right Social Media
Now let's take a look at what the top social media outlets have to offer:
Facebook – As of September 2016, Facebook has 1.7 billion active users,* making it the most popular social media site. Facebook is designed to build community and help participants network broadly. However, many users don't use Facebook for shopping. Therefore, this social media site may not be the best option for all businesses.
LinkedIn – LinkedIn allows you to network with other professionals and share your knowledge. This site, which is is preferred over all other networks (other than Facebook) by millionaires,** can also help you network with other business owners. This is extremely beneficial if your clients are other businesses or you want to connect with other businesses owners.
Pinterest – Pinterest is a great social media outlet if your business targets women, with more than 42% of women online using the platform.*** For example, businesses try to entice potential customers by posting beautiful pictures of home renovations, colorful meals and travel destinations.
Twitter – This social media outlet is popular with young users, as well as information junkies. With over 300 million users, there are over 6000 Tweets sent every second and 65.8% of companies use Twitter for marketing.*** The most successful users find ways to engage followers in conversations (even though Twitter only allows a limited number of characters in each Tweet).
Instagram – Instagram, is visual in nature, with over 40 billion photos shared as of March 2017.*** Many people who are on Instagram also use Twitter, so you may be able to double your reach by using both outlets. Instagram also can be great for target marketing since it is especially popular with ethnic groups and residents in urban areas.
Today's social media outlets are a valuable tool that can help your business grow. But don't get overwhelmed. Take a deep breath, analyze your target market and choose the social media platform that will maximize results. Before you know it, you will find your business platform expanding and may even discover a new customer base.
*http://www.statista.com/statistics/272014/global-social-networks-ranked-by-number-of-users/
**http://www.makeuseof.com/tag/12-social-media-facts-statistics-know-2016/
***https://www.brandwatch.com/2016/03/96-amazing-social-media-statistics-and-facts-for-2016/