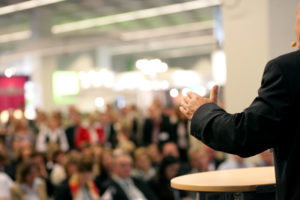 Hiring the right keynote speaker will determine the success of an event. If you hire the perfect person, your audience will be captivated, inspired and moved. But more importantly, they will be receptive to the information they are hearing.
So how do you ensure that you are choosing the right person for your event? Here are a few tips to help you identify hiring the right keynote speaker.
Focus on Fundamentals
The first step in hiring the perfect speaker is determining where and when your event will take place, what type of event you are having and other logistical questions.
You will want to nail down a date and time as soon as possible, since many in-demand keynote speakers are booked many months or even years in advance. You will also need to examine your budget closely. Keynote speakers can vary widely in speaker fees, so you will want to know which speakers are in your price range.
Establish Your Keynote's Goals
It is important to determine the goals and effect you want the keynote speaker to have. Do you want to educate the audience? Rally them to action? Raise money? Entertain?
Once you have established what your overall goals are, you can identify speakers who excel in that particular niche. Remember, even a great speaker can fail if the context or environment is a poor fit.
Make it a Collaborative Effort
When looking for a keynote speaker, it is a good idea to leverage the experience of your friends, colleagues and even family members if they have event planning experience of connection to speakers. Don't be afraid to ask for references; a word-of-mouth recommendation can be invaluable in finding the right person.
Also, many keynote addresses are posted online, so don't hesitate to watch your prospective speakers in action before reaching out to them for your event.
Consider Your Audience
How well your particular speaker will be received depends in part on who your audience is. Will you have an audience that is specialized in the topic being addressed or will they have more of a general knowledge of the subject matter?  Are they older or younger? Establishing this information is a great way to ensure the expectations of your speaker and audience are aligned.
The Next Step
Finding and hiring the right keynote speaker is one of the most critical decisions to make when planning an event. These helpful tips will ensure that you get a keynote speaker who will captivate, motivate and move your audience to action.