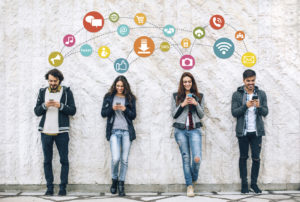 Social media has become the most popular form of communication for teenagers and adults, alike. At every turn, we are being bombarded by social media messages from either Facebook, Twitter, Instagram, Pinterest or LinkedIn. And sometimes, it's just hard to keep up. Just ask business owners.
Many entrepreneurs want to tap into various social media platforms, but are unsure where to begin. They are also afraid of making a mistake since social media has a unique language that can positively heighten or negatively impact their business or brand. So what are the social media best practices for success?
Here are some helpful tips that can give you an edge:
Best Practice #1: Identify the Right Social Media Outlet
Business owners need to be strategic in their choice of social media. Assess the goals of your business. Then determine which social media platform will best help you achieve your objectives.
Different social media have different audiences. For example, although Facebook is a very popular social media site, users rarely employ this platform for shopping. Instead, Facebook's primary use is to build community.
On the other hand, Pinterest and Instagram are great outlets for businesses with highly visual products or services. Clothing retailers, interior decorators, restaurants and travel companies benefit from showcasing their products with pictures.
Information and news junkies flock to Twitter. Tweets allow for information to be conveyed with short messages. These nuggets encourage conversation among its followers. But if you want to network and share information with other business professionals, LinkedIn should be your medium of choice.
Best Practice #2: Develop a Consistent Message
Consistency is key to maintaining your brand. Develop a consistent approach to your social media messages that reflect what you and your business are all about. Consider developing a monthly editorial calendar with key messages you want to share. This will help you stay on track with your followers. You may also consider using a time-saving program such as Hootsuite, which allows you to post messages across various social media sites if you use more than one that fits your business model.
Best Practice #3: Use Hashtags
Hashtags are keywords that start with an actual hashtag (#). Doing this allows you to categorize your messages so that social media users can find them when doing a search. This is optimal for increasing your visibility and joining a trending topic. For example, if you or your company participate in a marathon to raise money for cancer, you can potentially use #raceforthecure when discussing the event.
Best Practice #4: Quantify Results
To ensure that your time and energy are well-spent on social media, track your results. Have a system in place whereby you can see what works and what doesn't. Which posts attract followers? Have any posts or tweets gained you more website traffic? More sales? By analyzing your results, you will know which messages connect with your target audience and which are missing the mark.
These social media best practices are powerful communication tools. Use them wisely to refine your brand and messages. In no time, others will start to notice and ask you to share your social media best practices.