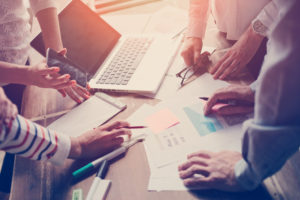 You don't have to be a military strategist to know that going into battle unprepared is a losing proposition. Yet small business owners make a similar mistake every day by competing without a detailed marketing plan.
"By failing to prepare, you are preparing to fail," Ben Franklin wisely noted. Avoiding this outcome in business demands the careful formulation of a comprehensive and well-researched marketing plan. If done correctly, your plan will help you capitalize on opportunities as they arise.
The Benefits of a Marketing Plan
The advantages of a sound marketing plan are substantial. A well-designed and clearly articulated plan serves as a blueprint for your overall marketing approach. It provides you with a document you can refer to—and modify as necessary—at any time depending on fluctuating business conditions and opportunities. Your marketing plan should also outline your vision and strategic objectives.
Here are some of helpful tips to develop an effective marketing plan:
Step 1: Build a Foundation
When developing your marketing plan, start with a brief description of your product or service, your position in the marketplace, your competition, and any challenges you are likely to face. This section should be an analytical overview similar to what you will find in a business plan.
Step 2 Define Your Audience
Defining your target audience is a key part of determining which marketing technique will work best. It is important to be as specific as possible when setting objectives. Be sure to conduct some market research when crystallizing who your target audience is.
Step 3: Set Goals
In your business plan, clearly delineate the strategic objectives you would like to pursue. For example, as sales targets, customer acquisition, revenue numbers, etc. It is important that your objectives are specific and measurable, as these attributes will help you determine the success of your efforts.
Step 4: Align Your Objectives
Once you have established your business goals, it is time to think about how your marketing approach will help achieve them. For example, if you want to grow your customer base, you will need marketing outreach. A smart marketing approach will provide you with actionable strategies for cultivating your target audience at every step of the sales cycle.
Step 5: Crunch the Numbers
Having an ambitious marketing plan is admirable, but you also need to be realistic in terms of your finances. Be sure to make an accurate, rather than optimistic, accounting of all expected marketing expenses.
The Bottom Line
Crafting a detailed and useful marketing plan is one of the first steps to successfully selling your product or services. Don't delay in developing a marketing blueprint; it is one of the best ways to strategically grow your business.