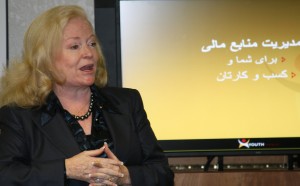 Entrepreneurs who think of their business as their job have the wrong mindset and risk burnout, President's Council member Sharon Lechter told a group of Afghan women entrepreneurs Oct. 16 at Thunderbird School of Global Management in Glendale, Ariz. "Many of us think of our business as our job," Lechter told the women, who came to Thunderbird for two weeks of intensive business education through a program called Project Artemis. "I want you to reprogram that. Your business is not your job. Your business is an asset, and that asset can grow and give you financial freedom." The women enrolled in Project Artemis listened with rapt attention to Sharon as she laid out complex financial terms with ease and simplicity through simple visuals. Half of the class spoke fluent English and half required the use of a translator. However, every word rang strong with the group of women as they learned about assets and investments. "So you can say we are selling our knowledge," said Mariam Ahmadi. "As we get more knowledge, we get more assets."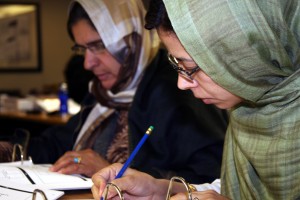 The group expressed extreme enthusiasm during both class sessions and returned speedily from lunch to continue learning. Each showed their deep desire to not only grow their own business, but improve the state of their country, the problems it faces and the role of women in its future. They tackled problems Afghanistan faces such as the lack of high-tech machinery and the struggle of high import prices for various goods and services. Together, they managed to work out unique solutions to these complex problems during the session. The stories of the women will be told in an exclusive CNN International news story that will catalogue their experiences in America and a review on their success back in Afghanistan. The class session is extensively covered by Thunderbird. Here's what others are saying. In a Thunderbird Knowledge Network blog, Thunderbird Professor Greg Unruh, Ph.D. said:
Using an easy visual graph to show the flow of money into, out of, and through their businesses, Sharon was able to demonstrate how investing in the company could yield big returns over time.  She told the women how many small business owners make the mistake of pulling money out of the company after they experience a little success.  And instead of re-investing that profit, they squander it and have nothing for growth or for the hard times.  The women understood this and even offered an Afghan proverb that mirrored the point… you don't need to eat meat every day when beans will do.
To read more on the Thunderbird blog posts, please visit: http://newsandopinions.thunderbird.edu/globalcitizenship/2008/10/16/project-artemis-day-6-my-business-is-not-my-job/ and http://newsandopinions.thunderbird.edu/blog/2008/10/16/your-business-is-not-your-job-rich-dad-author-says/