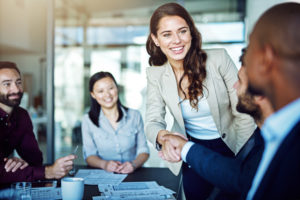 Starting a new business is one of the most exciting and rewarding adventures you can embark on. It takes courage and a great deal of work. But in order to succeed, you also need to be armed with how to avoid pitfalls that so many new entrepreneurs face.
Here are four key stumbling blocks to overcome for ultimate success as an entrepreneur with a thriving business:
Lacking Vision and Passion

I often hear people talk about how they would love to start their own business because they are tired of their current job. The idea of being your own boss and escaping the daily office grind is very appealing. But creating a successful venture ofyour own requires much more than drive to be your own boss.
Entrepreneurship is hard work, and it requires real passion. Removing yourself from a negative work environment might feel good in the short-term, but it won't provide a long-term solution if you don't have the right vehicle to build on. Discover your passion and what you want to invest your time and energy on. This will ultimately drive you to succeed.
Ignoring the Basics
A great idea isn't enough to sustain a viable business. You need to develop a detailed business plan, evaluate the marketplace and your competition, and file the necessary paperwork. By performing your due diligence on the fundamentals, you will ensure all the nuts and bolts are in place, preventing any unexpected surprises from derailing your new business.
      3. Neglecting Branding and Marketing

Marketing is absolutely crucial for a new business because it will help build your brand identity and differentiate you in the marketplace. Today, it has never been easier for a small business to develop and refine a powerful brand message that can reach a vast number of potential customers. You don't need to hire an advertising agency or public relations firm that charges hefty retainers to achieve your marketing goals. Rather, you can obtain effective results with little-to-no cost. A good marketing plan will include a social media strategy and quality content. Start compiling an email list of potential clients to distribute your products or services. You can also obtain free publicity from organizations such as HARO.
Going Solo
The idea that "no man or woman is an island" is especially true when it comes to starting a business. Trying to do everything yourself is one of the most common pitfalls for new entrepreneurs. This is understandable: Your business is your baby and it's hard to delegate when your livelihood is on the line. But it's important to grasp that if you don't accept help from others, you will quickly burn out and your business will suffer.
Instead, develop a support network to help shoulder your burden. Form friendships with other entrepreneurs who can help you navigate the ups and downs of starting a new venture. You might also want to consider enlisting the help of a mentor. Rely on their expertise to help you through this exciting path.
Your Next Move

Starting a new business is an incredible journey that can radically transform your life. By discovering your passion, conducting extensive market research, and developing a marketing strategy and support network, you will achieve success and overcome many of the obstacles new entrepreneurs succumb to.
Seize the day and let your new adventure begin. Contact me for more help on starting your business or participating in my Master Mentor program.