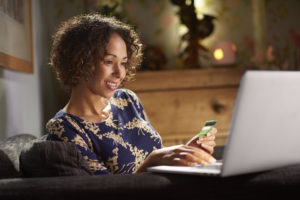 When it come to achieving financial empowerment, many think it has to do with how much money you make. Contrary to this train of thought, I want to share with you that financial empowerment has more to do with what you do with your money than how much you make. Many people think this means eliminating all spending. But, I am here to tell you that it is absolutely possible to spend happily and still get ahead!
It was my honor to be asked to provide an article on this subject in the 2016 Summer Money Games. I look forward to bringing home the gold in the Money Games and have included an excerpt below to support you in your medal worthy efforts for financial empowerment.
The formula to creating abundance, not scarcity, in our lives starts with planning to spend. In fact, when we focus instead on a budget, it may seem like we need to be doing the opposite: planning not to spend. The reality is that we are bound to spend money. Some expenses are essential for living — others are lifestyle preferences. The point is it is essential to have a plan for your money so you will have a plan for your future freedom.
The word "budget" is such a negative word. Just saying it, or writing it, validates a mindset of scarcity. In fact, the adjective form of the word "budget" means "inexpensive," like "budget condo." So let's replace the phrase "create a budget" with "create a spending plan!" Most of us love to spend.
At the end of the day, we are all either masters of our money or slaves to our money! And the formula for becoming a master of your money is to have a plan on how you are going to spend your money with an eye on your financial future.
Has this snippet piqued your interest? Are you ready to learn more about financial empowerment and how to create a spending plan? If so, please visit gobankingrates.com and read my article in its entirety. And, if you like what you've read and found it helpful and empowering, please vote for my article in the Money Games competition on the gobankingrates.com website. Voting ends on August 31, and you can vote daily from all of your devices and when you share on social media using #MoneyGames, your vote counts up to 4 more times!