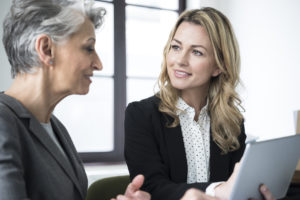 We have all heard how behind every great man is a great woman. It is my firm belief that when men and women come together, we see the greatest benefit in business. Women's unique insights and skills make them a force to be reckoned with. But unfortunately, women often don't get the opportunity to shine because they are lacking, don't know where to find or don't have the confidence to pursue key resources, and don't have mentor relationships.
It is my goal to change this so women excel personally and professionally by having great women support other amazing women by fostering mentor relationships.
What Women Want
Many women in the business world often tell me they would like to have a mentor relationship, but don't know how to go about finding one. They want someone they can trust who can guide them through the small and big challenges that are part of every business. They also want to have frank discussions with their mentor on the specific challenges women face.
Mentoring is very dear to my heart and something I've dedicated my life to. I believe it is crucial for women to have professional role models who offer honest advice and support. But many women don't have access to these kinds of relationships. In fact, a  report by Development Dimensions International conducted in 2014, found that 54 percent of women in senior positions have only been asked a few times during their career to serve as a mentor. Another 20 percent of the women surveyed said they had never been asked to serve in this type of advisory role.
These are missed opportunities for women all over the world.
Transform the World
One of the main reasons why women benefit from a professional mentor relationship is that it gives them a champion in the business world—someone who believes in their skills and talents. Often, women downplay their qualifications and capabilities, sabotaging any chance at success.
Mentors help women recognize their unique abilities and give them the confidence they need to succeed. They also provide unique insights into overcoming obstacles and dealing with adversity. With a mentor by your side, all things are possible. Hand-in-hand, we want to help you in your journey to achieve lasting success both personally and professionally.
For decades, successful women all over the world are making difference. Do you want to join them?  Now is your chance!